2015 STEM Learning Grants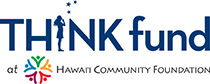 Twenty-four organizations on Hawai'i Island received $500,000 in grants through the THINK (The Hawai'i Island New Knowledge) Fund at Hawai'i Community Foundation STEM Learning Grants Program to boost learning in science, technology, engineering, and mathematics (STEM) for students.  The programs that received funding range from professional development in STEM for teachers through multi-school partnerships to 'āina-based programs for youth that integrate science and mathematics to summer internships in STEM fields.
After receiving a large number of quality proposals for the THINK Fund at HCF STEM Learning Grants Program, HCF felt the time was right to invite other funders to contribute.  HCF has brought on an additional six funding partners who are generously supporting this program.  With lead funding of $200,000 from TMT, the other funders contributed an additional $300,000 toward the grantees selected through the program.
The grantees were selected by THINK Fund at HCF's advisory committee, which is made up of local volunteer leaders who assist the HCF staff in developing strategy, reviewing grant applications, and making award decisions for the fund. Recipients of the inaugural grant awards through THINK Fund at HCF STEM Learning Grants Program:
Akamai Workforce Initiative – Internship Program
Big Island Invasive Species Committee – Teacher Professional Development for STEM
Boys and Girls Club of the Big Island – Akeakamai Aloha 'Aina
Friends of the Future – Earl's Garage
Hawai'i Preparatory Academy and Waimea Elementary – STEM Summer Learning Partnership
Hawai'i Space Grant Consortium – Inspiration Imagination Innovation (I⊃;) Project
Hilo Intermediate, Kaumana Elementary School and EB Desilva Elementary School – STEM Framework Partnership
Holualoa Elementary School – Expand and Integrate STEM
Honaunau Elementary School – Garden for STEM Learning
Honoka'a Complex – STEM Partnership
Honoka'a Complex – TechnoTrailer
'Imiloa Astronomy Center – Mobile Science Outreach
Kanu o ka 'Aina Learning 'Ohana – Malama Kipuka-Taking Care of a Culturally Sacred Place Through Science Exploration
Ke Kula 'o Nawahiokalani 'ōpū'u – Ko Kula Kai
Kea'au Elementary School Robotics
Kealakehe High School – STEM Education
Keaukaha One Youth Development – RISE 21st Century After School Program
Kohala Watershed Partnership – Environmental Education
Laupahoehoe Community Public Charter School – Project-Based Learning and 21st Century Skills
North Kohala Community Resource Center – Kohala Robotics
Pa'a Pono Miloli'i – 'Imiloa O Miloli'i Miloli'i Seekers of Knowledge"
PISCES Moon RIDER at Kealakehe High School
Waimea Middle Public Conversion Charter School -Full STEM Ahead
West Hawai'i Explorations Academy Public Charter School Robotics
Donors –  Give and support this Hawai'i Island STEM education opportunity by contributing to the THINK Fund at HCF. Contact Lydia Clements at lclements@hcf-hawaii.org or 808-885-2174 if you are interested in getting involved with STEM philanthropy.
– See more at: http://www.hawaiicommunityfoundation.org/community-impact/STEM-grantees#sthash.zwrEIMpV.zLEe60Qy.dpuf